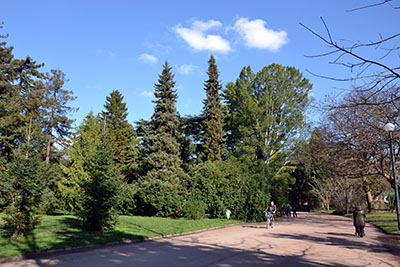 The legend of the Golden Head (Tête d'Or).
Contrary to what one might thing, the name of the place « La Tête d'Or » is far older than the creation of the park. The legend, indeed, states that the Crusaders once burried there a treasure, part of which was a Christ golden head.
It is said that in 1855, a clairvoyant woman has been hired to find the precious relic. But, despite all her efforts, she could never locate it again. Legend or reality, up to this day the mistery of the golden head has not yet been solved…
The creation of the parc
The park has been created in the 19th century with the impetus of the Lyon prefect and mayor Claude-Marius Vaïsse with the aim of « giving nature to those who don't have any ». The construction was given in 1856 to landscape gardeners Denis and Eugène Bühler and to ingeneer Gustave Bonnet. The park was open in 1861, one year after the work had begun. The zoological part and the botanical garden were created respectively in 1865 and 1887.
As for the rose garden, more recent, it have been added in 1961.